Categories


Contact Us
A&S Power Supply Co.,Ltd
Address:469, Xinsheng Road, Gaoxin District, Chengdu, Sichuan, China
Tel:+86-28-65376776
Fax:+86-28-86129221
Email:inverter@electrical8.com
Contact Person:Karina
S8JX Switch Mode Power

Feature:

Flexible Selection of Reliability and Ease of Operation with the S8JX. New Models with Harmonic Current Suppression for a Broader Lineup.
General-purpose Power Supplies that are exceptionally easy to use and feature a short body.
Two Mounting Methods for Easy Installation

Install even 300-W models with either screws or DIN Rail.
* Screw mounting must be used with 600-W models.
* For 300-W models, use steel DIN Rail.
Use DC Input (80 to 370 VDC)
Use the S8JX as a 15-W to 150-W DC/DC Power Supply.
* Not applicable to 150-W, 5-V models.
The Shortest Body Class in the Industry
Thinner panels can be achieved without interfering with other components.
Comparison to Previous OMRON 50-W Front-mounting Models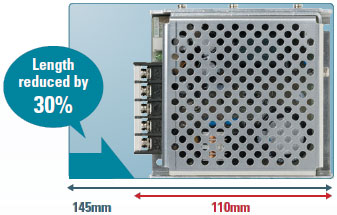 300-W Models Have No Fans
* (24V/48V)

S8JX-P
Harmonic current suppression enables a wider range of application.
Functions for Export Equipment Bound for the EU
Harmonic Suppression/PFC (Power Facter Correction)
EMI Class B Compliant
More High-capacity Applications
* Applies to 300-W and 600-W models only.
Remote Sensing
You can compensate for voltage drops on the load lines.
Remote Control
Use an external signal to turn the output ON and OFF while the input voltage is applied.
Alarm Output
Output a signal for Power Supply errors, such as fan failure or insufficient voltage.
SEMI F47 Compatibility for 300-W and 600-W Models
(For 200-V Input)
Ensure reliable operation even for momentary drops in the input voltage.
Applications include semiconductor manufacturing equipment.
Slim Body for Greater Equipment Downsizing
100-W Models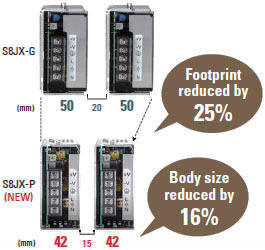 300-W Models